A 10yr Old Boy Was Playing With A NERF Gun, They Tried To Charge Him With A Felony!
How many times have kids been told that they need to get off their phones and go outside to play? Well, when a 10-year-old Colorado boy did just that, he ended up getting arrested and charged with a class 5 felony.
A Fort Carson family wants to share their story with others after their 10-year-old son was arrested and charged with Felony Menacing, a Class 5 felony, which has since been expunged.
Gavin and his friend were killing time as they waited to go to a sleepover when they decided to use broken Nerf guns to play outside as their favorite Fortnite characters.
Gavin's mother, Stefanie Carpenter explained what happen in a Facebook post. According to Stefanie, Gavin was arrested, along with his friend, who was also just 10 years old.
Christopher and Stefanie Carpenter are a military family living on base at Fort Carson, they have three children, one of whom is Gavin.
While they were playing, they pointed the guns—which didn't even have Nerf ammo in them—at "5 or 10" passing cars, Carpenter told authorities.
One of those drivers wasn't happy about this, though, and he quickly slammed on his brakes and followed the two frightened children to Carpenter's grandparents' house.
The man then allegedly threw the car in reverse and began yelling at the boys, who ran into the friend's grandparent's house nearby. The man followed and a doorbell camera video captured him yelling at an adult who answered the door.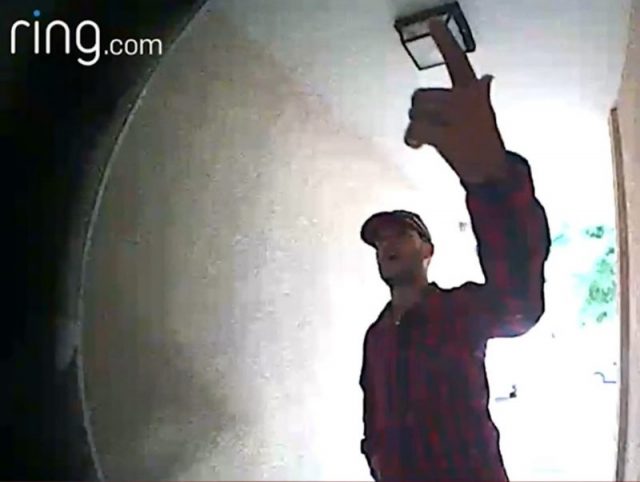 "The toy bow was an orange Nerf bow," explained Gavin, admitting to Fox 21 News that he was "very scared" of the man's behavior. "It didn't work. Nothing could shoot out of it. Nothing would come out of it. The weapon, well, toy, I had had an orange tip. It was also broken and couldn't shoot anything out of it."
According to KOAA reports:
The driver of the truck was angry. "I don't know what kind of gun it is. It was some kind of gun," the unidentified man could be heard shouting in the doorbell camera footage. A voice from inside the house asked him to "watch his mouth," but he continued to yell.

"How about this? How about I call the [expletive] cops?" he responded. And, that's what he did.
Read more of this story from Taphaps:
El Paso County Sheriff's Office deputies arrived at the home, and much to the family's shock, they arrested Gavin and his friend. Officers handcuffed the boys and drove them to the Colorado Springs police headquarters for fingerprinting and mugshots. The ordeal left Gavin in tears, according to his mother. "I told them I had no intention to have scared them or have any threat to their life," the boy said.
Stefanie Carpenter and her husband Chris followed the police to the station, where their son was eventually released around 10:30 pm that evening. The Carpenters said the 4th Judicial District Attorney's office was adamant about pursuing the charge of menacing, which is a class five felony. They hired an attorney and eventually opted for a rehabilitation program that allowed Gavin to avoid a conviction.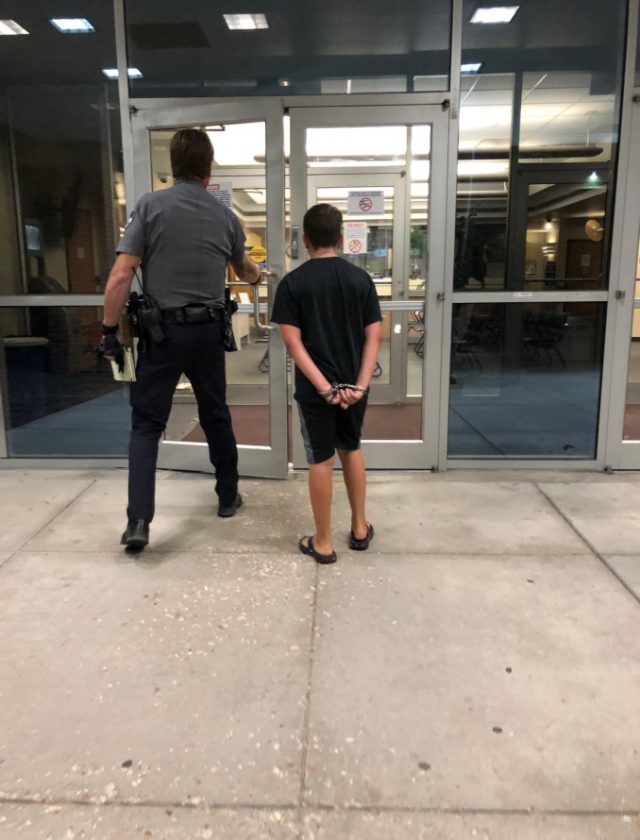 "It was just a hard no, that the district attorney wasn't going to throw this out," Chris recalled. "That is when we moved into the diversion program." Under the program, Gavin was required to perform community service and submit an essay along with his grades for court review. More than seven months later, his felony record was finally expunged, giving his family reason to celebrate. His record was cleared, and Gavin had learned a valuable lesson.
Should it have come to this, though? According to a general statement from the El Paso County Sheriff's Office, there are times the answer is yes. "There are times when it would be appropriate to charge menacingly when a toy gun is involved," the statement explained. "If someone knowingly places someone in fear of serious bodily injury or death, menacing would be appropriate," the sheriff's office added, and this is now what Chris and Stefanie Carpenter want to warn other parents about:
As for the Carpenters, Stefanie said her family was looking forward to moving when her husband, a lieutenant colonel in the Army, is transferred to a new post. "I can't live in a state where my kids can't be kids and play outside without being scared of being arrested," she said. However, cases like this one aren't unique to Colorado.
In a similar case that occurred in the Philadelphia area of Pennsylvania, a 6-year-old kindergartner with Down syndrome was reported to police after pointing her finger at her teacher and saying, "I shoot you." The child was placed under investigation, and her mother was left to fight the district policy that landed her daughter, who she says became flustered and doesn't have the mental capacity to understand her actions, in hot water.
This isn't the first time a Nerf gun has been the subject of controversy, either. A New York-based consumer watchdog group wrote to Hasbro, the toymaker behind the Nerf line of foam projectiles, demanding it "remove assault-style toy weapons" from its offerings. The Empire State Consumer Project's letter to the company said, "Toy guns are one thing, but these emblems of mass destruction take them to the next, horrifying level."
While protecting the public should be a top priority for everyone in a civilized society, some believe that certain policies take the fear of violence too far. Others argue that, with the violence that some of today's youth have displayed, you can't be too careful. In this case, it was only a broken toy gun. In others, it could have been real. However, if the man truly feared for his life, he wouldn't have driven back to the "armed" offenders, gotten out of his truck, and followed them, making it obvious he wasn't scared at all.
Watch it here: THE WBHP MORNING SHOW WITH TONI & COREY/Youtube
Sources: Taphaps, KOAA, Fox 21 News