ESPN Analyst Collapses On-Air, Sending Live Broadcast Into A COMPLETE Panic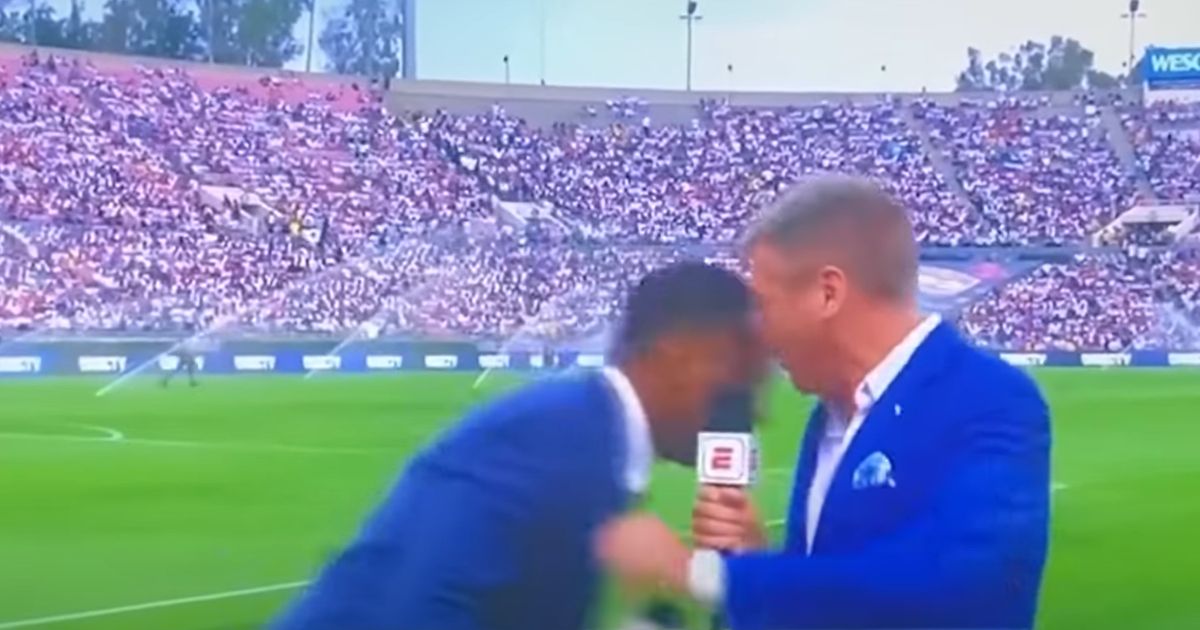 One of the absolute joys and advantages of viewing live television programming is the unshakable sense that anything could happen next.
But that's also the double-edged sword of live programming. Anything — even the abjectly horrifying — can take place.
Much to the terror of ESPN, the company was reminded of the potential pitfalls of live programming in real time on Sunday.
Before a friendly tilt between AC Milan and Real Madrid at the Rose Bowl in Pasadena, California, the network ran some perfunctory pregame coverage.
Retired soccer star and current ESPN analyst Shaka Hislop joined co-host Dan Thomas to discuss the forthcoming game when things took a decidedly startling turn.
As the two co-hosts were kicking around some pre-game banter, Hislop took a stumbling step backward before falling forward into Thomas.
A visibly panicked Thomas immediately called for "Shak!" and then asked for medical assistance.
You can watch the clip below for yourself:
Thomas provided an update later on, and it was mostly "good news."
"As it stands, it's good news. He's conscious, he's talking. I think he's a little embarrassed about it all. He's apologized profusely. Not a man who likes people to make a fuss of him," Thomas said during the broadcast. "Obviously, far too early to make any sort of diagnosis.
"But the important thing is that Shaka's conscious and we spoke to his family as well because you can imagine seeing that happen live, there can't be many more things that could scare you amongst the family. But fortunately, we spoke to his wife and things are looking OK."
Dan Thomas gave an update on Shaka Hislop's condition.

Shaka is "conscious and talking" and has been tended to by medics pic.twitter.com/B3mlEsxUfw

— ESPN FC (@ESPNFC) July 24, 2023
One wrinkle that arose from Hislop's shocking collapse is that internet sleuths quickly latched onto the retired soccer star's pro-COVID-19 vaccination stances.
Watch as ESPN anchor and former soccer star Shaka Hislop collapses on live TV. Hislop was a part of the pro vaccine campaign in sports urging everyone to get vaccinated pic.twitter.com/a0nGCzIYkD

— ????????Travis???????? (@Travis_in_Flint) July 24, 2023
Here's a video clip of Hislop urging people to get vaccinated back in August 2021:
There is no evidence that Hislop's vaccination status had anything to do with Sunday's collapse.
But that hasn't stopped vaccine critics from speculating about it.
"Just a few hours ago former Newcastle
United goalkeeper Shaka Hislop collapsed on live TV."

Let me guess, this always happened before "Covid" right? Nothing to do with the jab at all. pic.twitter.com/p3h7X06RAy

— Luther 'Ćyrus' (@Censored4sure) July 24, 2023
Let me guess 4x + vaxxed

— Brand VodkaSoda 2.0 ????????️‍ (@BVodkasoda) July 24, 2023
Wow. So many fell for it. What a shame!!!

— Matthew Sacchetti (@SacchettiRae) July 24, 2023
Late Sunday, ESPN described Hislop's current status as "conscious and recovering."
He joined the network in 2008 and has been a regular contributor since.