She Won Eight Million Dollars At A Casino But The Casino REFUSED To Pay Her….
Not everyone gets the chance to become a millionaire in America. More specifically, not many ever dream of coming across $8.5 million. That is why Veronica Castillo must have been ecstatic when she won the amount in the casino.
Veronica knows better than most how precious money can be to people. She is a loan officer from Portland, Oregon, and if ever there was someone who knew how futile gambling was, it was Veronica. That still didn't stop her from trying her luck as she stepped foot in the casino during her vacation with her mother.
Veronica was at Lucky Eagle Casino in Rochester, Washington, when she put $100 in the slot machine. With her mother playing alongside her, the payout was an unexpected and joyous surprise.
"I was very excited and happy. Then, I couldn't believe it. The casino staff came over and told her the machine had made an error and malfunctioned. They shut off the machine, took it away, printed out a ticket and gave me $80," she said on a local TV.
Veronica took her mother to the casino over the weekend and was very upset when she found out that she really did not hit the jackpot. Yet, the casino machines have a sticker on the side that says "malfunction voids all pays and plays."
"To me, it's cheating, may even be fraudulent," Veronica said. "My first thought was, How many people has this happened to? They think they won, then going away empty-handed."
According to Casino CEO John Setterstrom, that has never happened to anyone since the casino opened in 1995. Setterstrom says he is working to solve the issue and wants to keep Veronica as a customer. Meanwhile, she is seeking an attorney for the matter.
The casino released the following statement regarding the incident:
"Rocket Gaming Systems, the machine manufacturer, is in the process of conducting a forensic investigation to determine the cause of the display malfunction that occurred on the machine Ms. Castillo was playing. Rocket has not yet been able to determine how the error occurred although it is absolutely clear that the gaming machine played by Ms. Castillo experienced a display malfunction: This machine offers a maximum jackpot of $20,000 if a maximum bet is placed on all lines. The maximum jackpot that Ms. Castillo could have won based on the number of lines and credits she was betting is $6,000."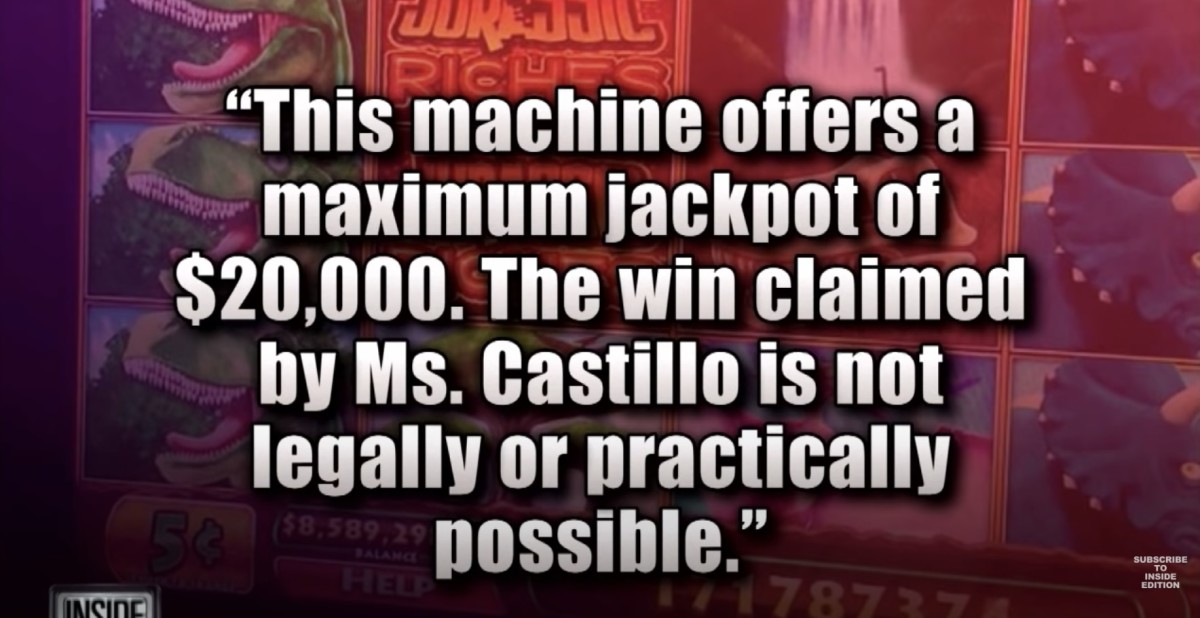 Joseph Dupuis from the Casino said, "We deeply regret that Ms. Castillo temporarily experienced an incorrect credit display while the machine began its process of metering down after the display malfunction, and have offered her a weekend stay in one of our suites as our guest, as well as dining at the property and free play included."
The apology was perhaps long overdue for Veronica, but she isn't ending her dispute with the casino there. She was reportedly seeking legal advice to see if there is a way that she can somehow finally get the money she sees as rightfully hers. Even if she doesn't win the case, Veronica wants her story to be heard so people become more aware of what can happen in a casino.
"What I expect at the very least, is to create awareness about how the casinos work, when the players get the big winnings!," she wrote on her Facebook page.
Watch the video report: InsideEdition/Youtube
Sources: OpposingViews,  Daily Mail