Why Hundreds Of People Flocked To This Simple Taco Truck Will Make Your Heart…
As we all knew running a restaurant is difficult, especially if it is a family business, but for this young woman from Texas, she had no idea how many people would read her tweet or how much new business it would generate when she called in for help.
Well, the power of social media, which is a fairly amazing tool when put to good use.
Unable to keep a family secret to herself any longer, a daughter in a difficult situation turned to Twitter and posted a tragic tweet. She had no idea that hundreds of people would swarm to her dad's taco truck the following day as a result of the social media post.
Texas woman Giselle Aviles, 21,  had a close relationship with her father,  even though sales had been declining for several weeks. Giselle frequently asked her father, Elias Aviles, about his workday. Her father occasionally made only $60, $40, or even $20 each day. And when they finally believed that things couldn't get much worse, they did. The woman was distraught when she realized how badly her dad's taco truck business was struggling.
According to the NY Post, "When Giselle asked how business was going, her father had devastating news after returning home from a full day of work on his taco truck, for a full Saturday of work he had only earned $6. The sales were in a huge slump. And Giselle decided she had to do something to help her hardworking dad, since she knew her family couldn't continue to struggle in this way."
Elias, Giselle's father, was familiar with its challenges as he had spent his entire career in the restaurant business. The family once operated a restaurant, but they were forced to scale back when the economy plummeted in 2008.
Elias opened a Mexican street taco food truck after deciding to roll with the punches. His new venture had been successful for approximately six years, but then he found himself in financial trouble once more as sales are quite low.
"At that moment, when he told me $6, I said 'nothing hurts,'" Giselle recalled. The 21-year-old then reached out to the Twitterverse for help.
"When he said $6, it was kind of like are you kidding me? So, I just said, 'Well, we have nothing to lose,' and I decided to make the tweet that day," She told CNN.
"Hey Twitter!! I wouldn't normally do this, but my dad's taco truck business is struggling, he only sold $6 today, If you could retweet, I would appreciate you so much!!" Giselle tweeted.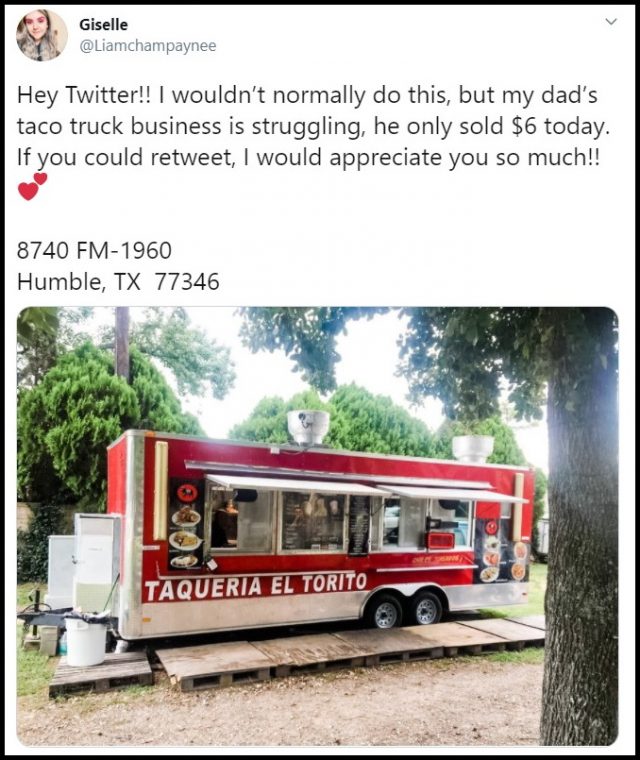 The tweet garnered comments and 2,000 retweets with one person even offering to buy out the truck to feed a hospital.
In a report to KHOU, "Giselle's father had no idea what to expect because he didn't comprehend social media. However, he discovered the impact a viral post can have when he arrived at work in the morning and was greeted by a large number of clients who had already started to swarm to the establishment in an unbelievable outpouring of support, and it exceeded Giselle's expectations."
People had been lining up since 6 am the day after Elias arrived in anticipation of its 8 am opening.
They ran out of stock, even though it was being routinely replenished up during the day, so he had to close an hour earlier than the customary 8 o'clock.
Giselle stopped by to help at one point and says there were about 100 customers during her shift.
"There were so many people, and [my dad] was kind of shocked because he didn't think there would be a turnaround that quickly," Giselle said.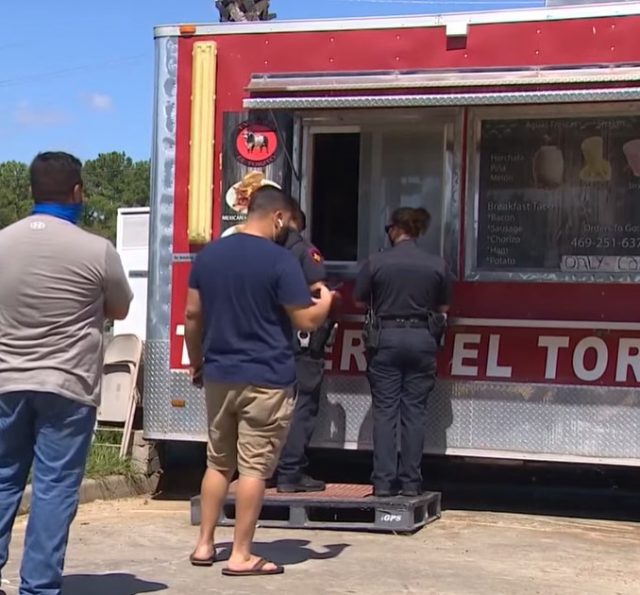 Even better, the busy days persisted for the remainder of the week, prompting Giselle to return to social media, thanking a lot of people and adding that they were looking to hire more workers because the business was doing so well.
"Hey everyone!! We are overwhelmed with joy from all of the response and support we've been receiving, It's amazing what social media can do!! As of right now, it's just one person fully working (my dad!) so PLEASE be patient with us, as we are trying to get orders out as quickly as possible." Giselle wrote.
And for all the people who helped spread the word, bringing in new customers and putting a smile on her father's face Giselle expressed her gratitude, "There were so many people, and [my dad] was kind of shocked because he didn't think there would be a turn around that quickly," She said.
"It feels amazing because I was just trying to just help him," Giselle continued.
"Just being able to do something that's going to give him business right now, that's going to get him known," she added.
Watch the video report below for more details:
Sources: Taphaps, NYpost, Khou