DeSantis Just Promised To Execute A Deep Cleaning Of The Deep State If…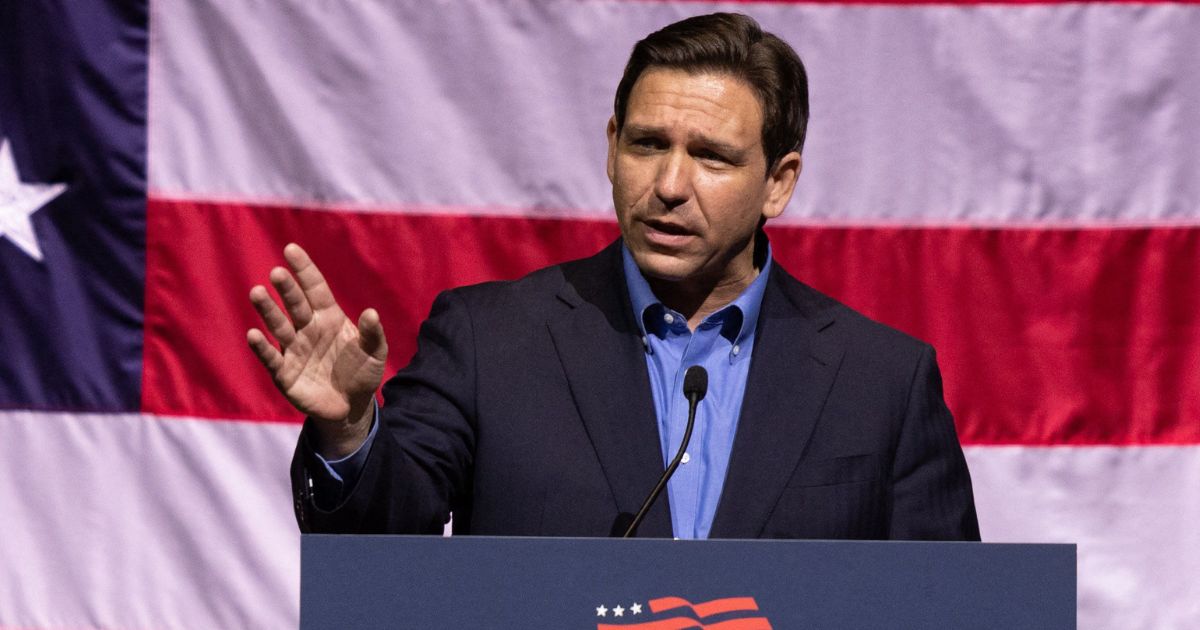 Ron DeSantis has a warning for the deep state.
The Florida governor, who is still trailing Donald Trump in the race for the Republican presidential nomination, made the remarks during a trip to New Hampshire last weekend, the Daily Mail reported.
"We're going to have all these deep state people," he said. "You know, we're going to start slitting throats on Day One."
DeSantis also had a warning for Mexican drug cartels responsible for exacerbating America's opioid crisis.
"At the border, they're going to be shot stone, cold dead," he said.
Such harsh language reportedly ruffled some feathers, with one attendee telling NHPR, the New Hampshire NPR outlet, that he found it inappropriate.
"If I was in charge of his PR, I would have said, 'Don't use that terminology,'" said the man, who described himself as a "Sununu Republican" exploring various candidates running against Donald Trump.
Ron DeSantis, in New Hampshire, discusses his plans for the federal workforce:

"We are going to start slitting throats on Day One."

(via @joshrogersNHPR) pic.twitter.com/H7pm9gTnda

— alexander nazaryan (@alexnazaryan) August 3, 2023
Back in June, DeSantis also weighed in on the immigration debate by promising to use "deadly force" to help defeat the cartels.
"Of course, you use deadly force," he said at a campaign event in Eagle Pass, a small Texas border city, the New York Times reported.
"If you drop a couple of these cartel operatives trying to do that, you're not going to have to worry about that anymore."
He also talked tough about "woke" policies.
"We're going to make sure that the woke agenda ends up in the dustbin of history," he said, according to the report.
Since announcing his candidacy back in May, DeSantis has struggled to make significant inroads into Donald Trump's polling numbers.
As President, I will end the weaponization of government, replace the FBI Director, and ensure a single standard of justice for all Americans.

While I've seen reports, I have not read the indictment. I do, though, believe we need to enact reforms so that Americans have the right…

— Ron DeSantis (@RonDeSantis) August 1, 2023
Last month, his campaign confirmed that it was initiating a "reset" aimed at shaking up his messaging, strategy, events and paid staff.
"Ron DeSantis has never been the favorite or the darling of the establishment, and he has won because of it every time," DeSantis campaign manager Generra Peck told NBC News at the time. "
"No one in this race has been under fire more and won than Gov. DeSantis," she continued. "He's ready to prove them wrong again. Buckle up."