She Tried Smacking A Police Horse, What Happened Next Is Pure Karma!
A young college girl tried to smack a police horse but gets humiliated instead. The incident took place at Queen's University in Kingston, Ontario, wherein the unnamed young woman learned her lesson that it's not a good idea to disrespect members of law enforcement. She was seeking attention but what she got was a smack from the police horse.
The video, taken during the Queen's University homecoming in Kingston, Ontario, shows a blonde woman wearing a dark-colored shirt with a red stripe run-up to a police horse and slap it on the rear. The horse reacts by kicking the woman with one of its legs, causing her to fall face-first on the ground.
Watch it here: Blazed/Youtube
The incident above was one of a slew of horse-slapping incidents in the area. "Disappointing news from #QueensHomecoming. Our new horse, Murney, was slapped 3X tonight. No injuries. 2 men & 1 woman charged criminally," the Kingston Police Department announced on Twitter.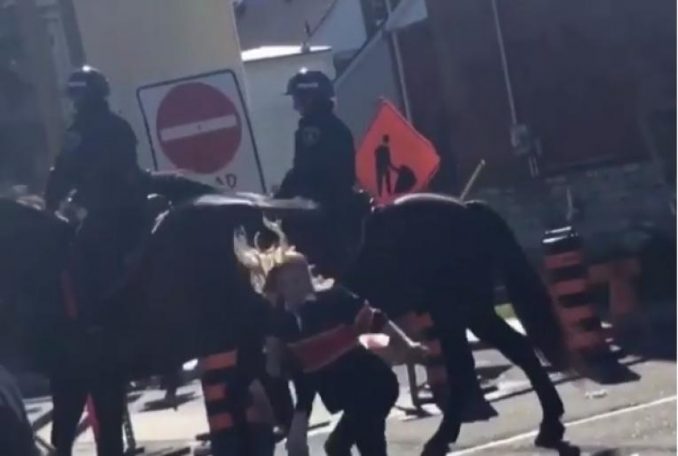 Police said Murney was initially hit by the suspects at 2:55 p.m., then again five minutes later and a third time at around 3:30 p.m.
A woman was released at the scene and police are in the process of issuing a summons. Two men were arrested and brought to a police station where they were charged with causing injury to a law enforcement animal.
Police said if convicted, they could face a maximum fine of $10,000, up to 18 months in prison, or both.
Kingston Police weren't able to confirm if criminal charges were laid against the woman seen in the video, but said Saturday's incidents are concerning for police.
"It speaks to the danger of approaching a horse and striking it from behind," Const. Steve Koopman told Global News.
"It could have been a much worse situation. The animal still kept its composure. Luckily the animal didn't bolt and the officer wasn't harmed."
Sources: Taphaps, Global News, Love This Pic, Newsling