One Five Guys Employee Verbally Assaulted A Brave Cop, Then He Got Hit With Karma!
In the past few years, Police have been facing harassment at the hands of restaurant and retail store workers in increasing numbers.
And this time, it was a 17-year-old employee of Five Guys in New Jersey mouthing off at police officers who came in to eat, calling them "piggies" and other slurs, a district manager for the chain said.
Reportedly, other employees simply laughed at the comments, including a manager.
Andy Kudrick, Howell Police Chief confirmed the incident occurred on Friday evening, and went on to say that the officers left the establishment.
The New Jersey State Policemen's Benevolent Association (PBA) President Colligan posted on Twitter:
"Our officers put their lives on the line daily and to be disrespected when simply getting a meal is outrageous. We demand an apology by Five Guys and an end to the lack of respect for police." 
According to NJ.com, Cortney Pechillo, the district manager said that she spoke to the chief of police Saturday morning and wrote an apology to the entire police force.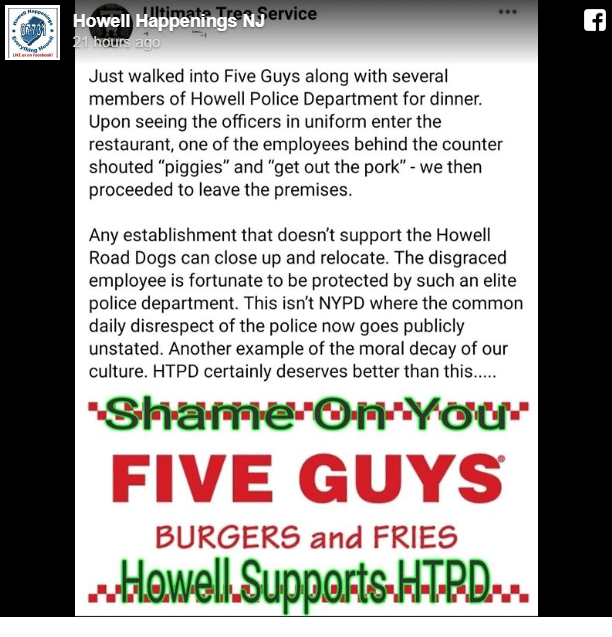 Pechillo said she's not exactly sure of everything that was said, but the teenage worker used "pigs" and other inappropriate terms to refer to the officers. The manager on duty Friday night called Pechillo, who said she told the supervisor to immediately fire the teenage employee.
Pechillo told NJ.com, distancing herself from the ex-employee:
"A stupid kid saying something he shouldn't have, I've been here 11 years, and I don't run the company this way. Immediate action was taken, and we'll go from there."
Pechillo, who runs the Five Guys locations in all of Monmouth and Ocean counties, said the Howell location will hold a fundraiser Wednesday for the police officers from 5 p.m. to 7 p.m. All proceeds from the event will go to the Howell PBA.
 "Tonight some of our officers stopped to eat and was met with a rude employee who called them 'piggies' while the other employees laughed," wrote a local business owner on Howell Happenings NJ's Facebook page. "This is unacceptable behavior, and we will not support any business that shows this kind of disrespect to our police department."
The post was later updated to say the situation had been resolved.
Howell Police Chief Andrew Kudrick posted a statement on the department's Facebook page, saying he had a "meaningful" conversation with the owner and Pechillo at police headquarters Saturday morning.